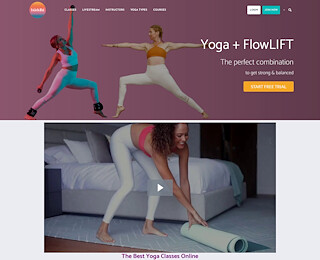 Do you wish you had the time to get to a yoga studio to practice? What if you could do yoga online? Although it's a relatively new concept, now you can enjoy all of the benefits of yoga, through Your Buddhi's online yoga videos designed to make yoga enjoyable and accessible for everyone, regardless of their level of practice.
Whether you're brand new to yoga and have never practiced a day in your life, or you're an experienced practitioner, Your Buddhi  Vinyasa yoga online has what you're looking for, with an extensive library of online videos designed to specifically meet your needs. Members love the impressive video library that includes:
– Stretch Everything
– Upper Body Strength
– Hips and Backbends
– Total Body Strength
– Yoga Pose Guide
– Super Yogi 3
– Full Body Stretch
– Smooth and Steady Flow
– Fat Burner
– Super Yogi Twists
– And many more!
As a member, you can filter videos by level of experience, by type of yoga, and by length of videos, which are 20 minutes, 40 minutes and 60 minutes in length. There are audios to listen to as well.
If you're already practicing yoga and are like a lot of other yoga practitioners, you may find inversions to be challenging or intimidating by nature. Your Buddhi's Mastering Inversions video is for those members who want to develop the skills to master inversions in order to face fears, strengthen the core and upper body or quiet the mind. Once you develop the strength, flexibility and awareness that inversions require, you'll want to start including them in your regular practice.
Membership yoga videos that will help you master your inversions include 'Go Upside Down', 'Handstand Training', and 'Super Yogi II'. Practicing with the yoga online videos will help you gradually build the strength necessary in your upper body and core. At the same time, you'll become more flexible areas including your hamstrings, spine and shoulders, so that floating up into an inversion will come more naturally.
If you suffer with lower back pain, there are videos to help with that as well. Yoga is famously popular for helping practitioners relieve lower back pain, which is actually one of the reasons why many people begin practicing yoga. When practiced mindfully, online yoga at YourBuddhi.com for lower back pain is a safe and inexpensive way to heal your pain.
Of course, not all yoga poses are appropriate for those experiencing back pain; this is one of the reasons Your Buddhi has created several online yoga videos that help to create length and space the spine. As a member, feel free to enjoy the following videos:
– Ease Lower Back Pain
– Lower Back Strength
– Hamstrings and Lower Back Stretch
You can become a member on YourBuddhi.com right now for only $14 per month and take advantage of unlimited access to videos for the entire month for less than the cost of one session at a studio. Register online at YourBuddhi.com and you'll also get a free 30 day trial membership so you can test drive all of the videos and benefits. Why not get started today?
Your Buddhi
858-886-7580
7843 Girard Ave
La Jolla
CA
92037
US